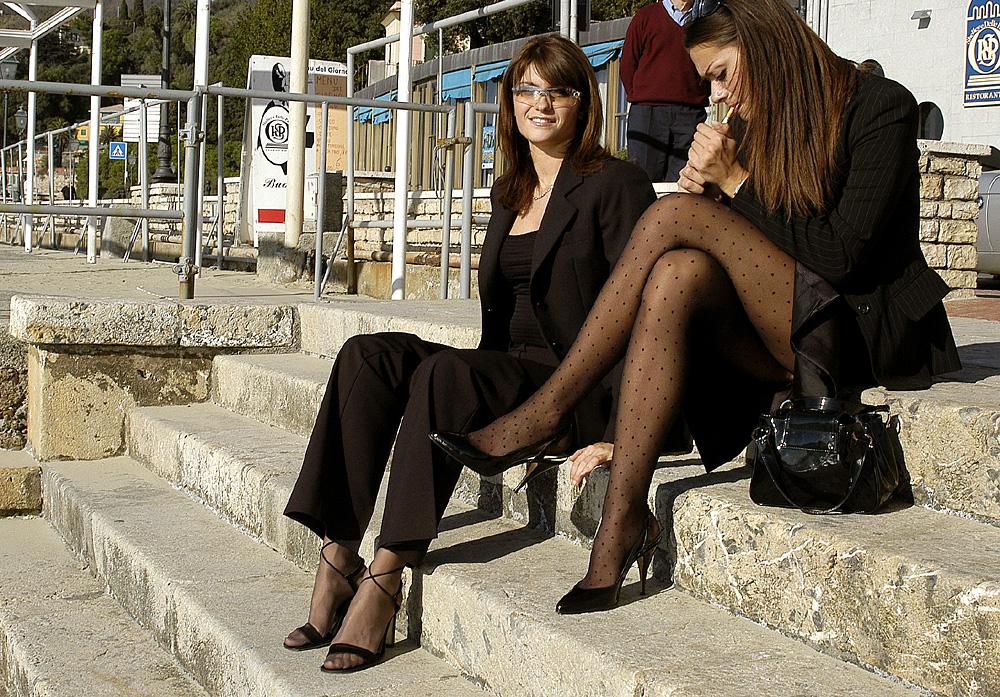 I was doing some seismic survey work at a marina yesterday. It is a large marina with many very deluxe vessels.
I was looking at pilings supporting one of the piers when a woman walked past me along the pier from the parking lot to a boat moored at the end. This was a most attractive, poised and stylish young woman. Very blonde with carefully done hair and make up. She was wearing a white, loose weave, belted cardigan over snug white pants and white sandals. The significant thing is the garter clips and straps of a garter belt, possibly 6 garter, were clearly visible under the snug pants. I could even see the edge of the welt. I could see only a portion of her blouse, but I think it was transparent. The stockings were white, sandal foot.
She acknowledged me politely in a manner that was friendly but final and then boarded the boat. The boat was one of the largest there – about a hundred foot motor sailer.
I have absolutely no idea what that was all about, but my imagination and fantasy have been well seeded.
– I was at Ascot races today and saw two girls wearing stockings.
The first was a girl in her 20s with dark brown hair. She was wearing sunglasses, a black leather jacket, a dark grey jumper, and a short black skirt. She was sitting on the front row of seats high up in the stand. I was standing on some steps below her. I could see the underside of both her inner thighs above her black hold-up stockings.
The second was also a girl in her 20s with brown hair. She was wearing a brown suede coat and a brown leather skirt. She was sitting on a seat near the parade ring with her boyfriend. She had her legs crossed and I could see the underside of her left thigh above her barely black stockings. Later she uncrossed her legs and I briefly saw a lot of both of her thighs.
One interesting point was that I saw the first girl several times later in the afternoon when she was sitting on a chair in the bar. Although she was wearing a short skirt and had her legs crossed it was impossible to tell she was wearing hold-ups. I think that there may be a lot more women wearing stockings than most people think. I would never have known except that when I first saw her I was several feet lower than she was.
– Several years ago I was staying at a hotel near Prestwick where a Sunday night dance was being held. A woman attending the dance was wearing wonderful full-fashioned hose. I was able to compliment her on how nice she looked and how flattering the seams were. I asked her if they were pantyhose or stockings. She looked thoughtful for an instant, then coy and said; 'I don't remember.' She then lifted her skirt to show me her stocking tops and garters and said, 'Oh, that's right. They're stockings!'
It was wonderful. 🙂
– Had my best sighting ever on Wednesday! While waiting to meet a contact in the Norfolk Hotel, Oxford St, I saw a very elegant older woman. Mid-40s, short blonde hair, smart suit- probably a city type. Her legs were crossed and I manoeuvred myself to have a better look at her legs. Black lace top hold-ups with plenty of thigh showing! After about 15 minutes she was joined by a much younger man (late teens) who I presumed to be her son.
I was wrong because he was soon stroking her legs underneath the table. Brilliant! They got into the elevator five minutes later (to go a room ?) I will never get a better sighting than this, but the memory suffices
– I was at Heathrow Airport on Monday evening when I saw a girl in her 30s with blonde hair. She was working for British Airways customer services and wore a dark blue uniform. I first saw her walking towards the customer service desk and thought I briefly saw her left thigh through a slit in the back of her skirt. Later I saw her again, this time leading a lady to the correct gate. As she walked along I saw a lot of her left thigh above her dark blue stockings. She was wearing a name badge and her initial was K.
– I had my first sighting in a long time today. Lady at work – mid to late forties came into the smoking area – yes I know it is a terrible habit! She was wearing red suit with a tightish skirt and her suspenders and bumps were clearly visible as she walked towards me. Her stockings were barely black.
There is also another lady at work in her forties who I am convinced wears stockings – but I have yet to get a proper view – still researching this one!
– I once got bold enough to compliment a rather serious, imperious looking woman on her lovely shiny sheer nylon stockings, fully expecting either a fierce scolding or even a hard slap across the face, but instead, to my utter delight, she smiled, said 'oh do you like them?' and promptly lifted her skirt to show me the full length of her nylon stockings, right up to where the garter-clasps showed! I was speechless, unfortunately.
– Last night I was on the 18:30 Manchester to London (Virgin Trains) Express. As I was walking down the aisle to get off the train at Euston Station, I happened to glance down at a pretty blonde on my right, and she was re-rolling her stocking up her left leg. Grey stockings and olive green dress, very day-to-day looking attire, nothing particularly glamorous, except of course for her rolling her stocking back up her leg to make sure it was taut!
Now, the question is – was she a Northerner coming to London for a weekend or a Londoner coming home? I didn't get to hear her speak!