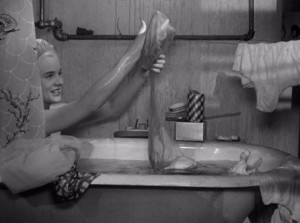 – I have an interesting arrangement with my girlfriend. She has agreed to wear stockings (sometimes) if I wash them for her. I bought a hosiery washing bag from a lingerie shop, but wasn't sure if it's okay to wash them in the washing machine or if I should do it by hand. Any advice? And can I dry them in a dryer or do they need to be hung up to dry?
Any assistance is really appreciated… I have quite a few pairs of stockings and hold-ups to wash for her. Also for the hold-ups (that have the rubbery band on the inside), are they okay to wash in the washing machine or is it better for hand-washing? And how would I use the hosiery washing bag, do I just put the stockings inside and then throw the whole thing into the washing machine? Do I have to wash these in the machine by themselves or do I just wash them with other clothes (is there a specific cycle to use)?
– I'd say wash them by hand, as they are far too delicate to put in the washing machine even in a lingerie bag. I use Delicare hand wash on my stockings and I wear FF's. I also use it on my underwire bras and garter belt. Get a little hanging drying rack with little clips on it if you can find one, they are terrific for drying stockings. I hope this helps.
– The only hosiery which is washing machine friendly is 70 denier tights. Hopefully you won't encounter any of those.
– I always wash my stockings and hold-ups by hand in mild detergent. It is very important not to use conditioner on the hold-ups as it will harm the bands. Just hang them by the toes on the washing line to dry.
I hand-wash my stockings in lukewarm water in a mild detergent. I would never put FF stockings in a washing machine.