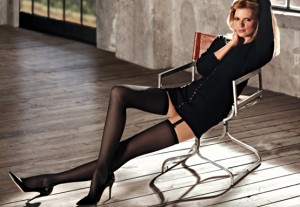 I saw a woman shopping in Birmingham yesterday who was wearing a charcoal grey straight shortish skirt, 3-4″ above the knee together with what I thought were barely black tights. However when she turned around I could see that they were stockings through a front split in her skirt! What a wonderful sight! Each time she took a step forward the majority of her stocking tops were on display. So a question for the boys and girls:- Girls: What style of skirts do you wear with stockings, i.e. short, long, straight, wrap, pleated, split, etc? Boys: What skirts have been worn when you have been fortunate enough to see a lady's stocking tops?
– The best skirts for seeing stocking tops are ones with a slit up the back. Stockings always seem to come down the thigh further at the back than at the front so it makes it more likely that stocking tops can be seen from behind. The other thing is that you are more likely to see a stocking top if the lady is in front of you and to your left. This is because most skirts with a slit have the left side overlapping the right, so the left stocking top is easier to see.
– Skirts with a split up the back are always sexy for us red-hot blooded males to admire you wonderful ladies wearing, but how about my particular favourite: Above the knee, black pleated skirt, an extremely narrow waist, ala Audrey Hepburn, 5'4″ approx, white polo-top or white shirt (opened), lacy white bra, barely black sheers and strappy heels and brunette long hair worn-up in a fool-around style! Lads, try and beat that one!
– Most of the time, I wear a longer dress. Since I wear stockings on a regular basis, I try to avoid unwanted attention. A few times a month, my friends and I go out for a girls' night out. The last time we went, we all wore stockings with a short skirt. And yes, our stocking tops and garter straps were visible at almost any given time. But, that is another story. 😉 Other times, my favourite skirts include a wrap around, a skirt with a slit up both sides, a recent one I bought with a slit up the front and two black shiny skirts with no slit at all.
– I always wear skirts which at least come to the knee when wearing stockings – they can be pleated or straight.
– The sight that has stuck in my mind for well over 10 years now was my very first sighting of the late 1980s stocking revival. A girl of about 20 was walking to work around the ANZ bank corner in Queen St, wearing a long wrap around skirt and high heels, and carrying her brief case in one hand and a lovely big bunch of flowers in the other.
I was on the other side of the road but she looked such a pretty picture that I watched her come around the corner thinking that she is probably a secretary and has just picked up the flowers to put onto the reception desk.
Just as she rounded the corner, the breeze that always blows down Edward Street caught her dress and parted it right up to her panties.
I couldn't believe my eyes. There she was with both hands full and no way to hold the dress closed no matter how she tried. So she just strode out with her dress blowing behind her until she went into the side doorway.
The stockings were black, as were the sussie straps and high strappy heels and I just stood there wide eyed and in disbelief as I had previously only seen this in men's magazines.
After that introduction into the delights of nylon and their associated suspendary accoutrements, I became hooked on watching for stockings so my vote will have to be for the wrap skirt.
– I remember that corner well! A wonderful place that seems to be the node of the wind-tunnels in the City (No doubt there is some scientific explanation…) Even today that area causes skirts to fly upwards, though unfortunately these days all one is likely to see is a pair of cottontails or a black opaque-lycra-clad posterior!
This morning I had an incredible sighting that got my pulse racing for the rest of the day! I was looking out of the window of a bus on London's Euston Road, and there was a Japanese or Chinese girl strutting along beside us. The traffic was heavy so the experience lasted several minutes. She was lovely, and looked about 17. She was wearing a tight fitting top, with a cardigan over the top, a very short black skirt, and knee-high black boots with tall, sharp high heels. She knew she was special… walking along like a little catwalk model, her black hair fading through to blond. But her legs were extraordinarily shiny. As any self-respecting reader would do, I got OFF the bus so as to walk along behind her. From my new angle, I could see that her miniskirt had a slit up the back… and several hundred yards of observation through the slit revealed that she was wearing sheer, shiny hold-ups! I was smitten. If you are excited reading this, I should reveal that, because it was a sunny day (and her mini-skirt was in black), I looked very hard for her knicker-lines, but I could not see any. So she might even have been wearing a thong! And by the way, about an hour later, I was sitting down in the park. There were some girls (aged about 20) sitting on a wall very close to me. They were laughing and joking, one leaned forward laughing, and from the top of her skirt, a g-string was visible. I couldn't stop thinking about it all day.