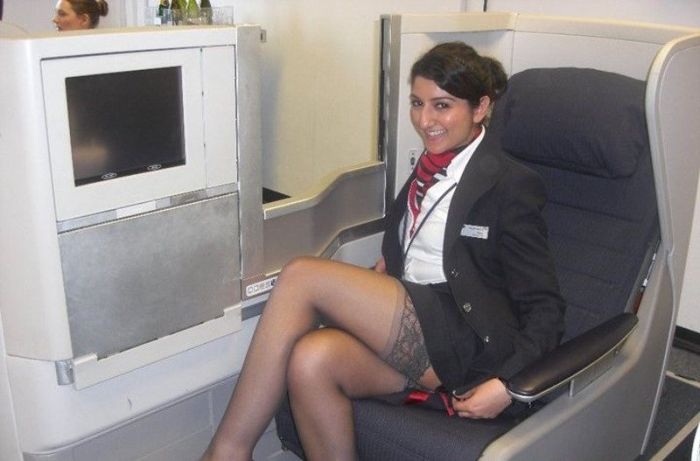 Despite looking seriously I haven't been able to discover any woman wearing stockings in any of the airports I have visited the last couple of days. I do never the less have an experience to tell you about my flight home from Brussels today. I was attending a Mairsk air flight and realized small bulks under the skirt of one of the 3 stewardesses. It was not the bulk of garter tabs but I'm convinced she wore thigh highs. Unfortunately the skirt went down below her knees so you (I) would newer get a chance to have a peek.
Do you know if stewardesses are getting a certain number of stockings from their company or if they have to buy them themselves? If they are given stockings are they then free to choose style: tights, thigh highs, stockings? What about color? The stewardess I noticed did not use black (or dark blue) as the other 2 did.
I am working for BA out of Manchester as cabin crew I always wear black stockings for work all the better if you can see the suspender clasps through my tight skirt. I find the male passengers notice this at once and keep looking throughout the flight. I usually rub up against the male passengers when going about my duties. I did try hold-ups but found these would slip down my legs over the length of the flight.
I saw an Ansett girl do in the Melbourne terminal recently…as she walked along the concourse she was obviously having trouble with gravity, so she just stopped, hitched her skirt and tugged the offending article back up… I couldn't believe my luck at being right there to see her (along with about 100 other blokes)!