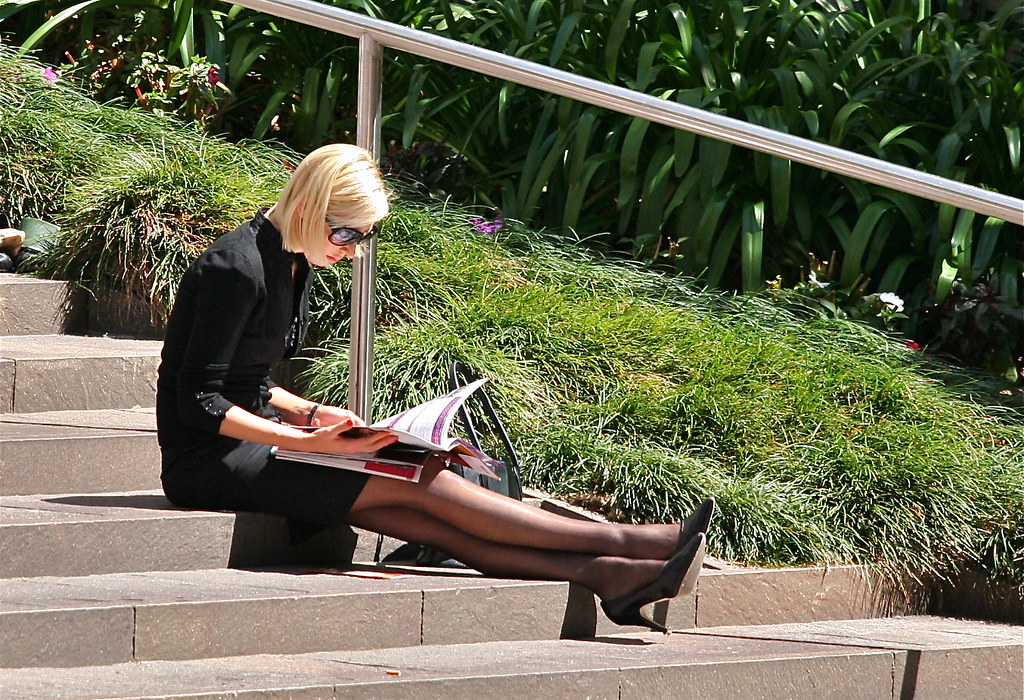 – First of all I have to say I am a nylon lover, but seeing women wearing them is getting to be a rare thing. I was at a wedding about ten years ago and I remember that most of the ladies were wearing nylons under their dresses (I'd like to think they were stockings but that's just wishful thinking!)
I was at another wedding a few weeks ago, a similar time of year to the first and I counted six young(ish) women wearing nylons (older women seem to still wear them). Most women had similar attire to the first wedding, but had bare legs. It is becoming more and more rare to see a girl wearing a skirt and wearing stockings/tights underneath. Lets hope fashions change soon.
May nylon rest in peace (for the time being anyway but please return soon.
– Unfortunately I have to agree in a certain way. This weekend I was in Blackpool on a friends stag weekend… and as these things normally develop myself and a few friends ended up in a lapdancing club… a very high class establishment called sinless. Out of all 20 of these gorgeous girls only one was wearing white lace top hold ups. I asked one of the girls about wearing sands and was told that the girls don't wear them as much 'cause they were a little tacky… I nearly cried. When I tried to say that I thought it was the opposite, she lost interest in the conversation and buggered off… ah well I tried guys.
Then onto a night club… not a single pair of stockings in sight. There must have been three or four hen nights, two of which had a St Trinians and policewomen theme but there was not a stocking between them. I'm starting to get a little depressed.
The missus thinks it has to do with the perception that a) stockings and suspenders are uncomfortable and b) they are a lot of effort to put on. Any thoughts?
– I agree with your wife on her observations and this could be due to most women being lazy. Perceptions are odd things, easy to generate but very difficult to change. Most people don't want to be convinced by reasoned argument, they'd rather follow the crowd and unfortunately this applies in everything in life. However your wife keeps wearing them so keep encouraging and supporting her.
– I have to agree unfortunately. Here in Chicago it's the start of summer and you'll find very few women wearing nylons. Of any kind. This is especially noticeable in the evenings at bars and restaurants. Very few nylons indeed.
– It is sad to say but I have to agree with you for the Detroit area. It was very hard to find a woman wearing stockings when the weather was cooler, let alone now that it is warming up. It seems that the trend is the bare leg, no matter what they are wearing. Ugh!
– They're not dead yet! I have, as will be widely known, just been eased into stockings. Up until about six months ago I did not even know how to put on a suspender belt let alone choose different styles and colours. I have to confess that my flirtation with stockings is pretty much man driven, because it's been two men that have bought for and advised on my recent conversion.
At school we wore thick dark tights with a grey pleated skirt, white shirt and tie. Shoes were strictly heavy with thick heels. But when I finally left college and hit London things changed from jeans to a business suit and skirts. This meant bare legs or some kind of hose. Of course tights were the common choice and I think I looked ok! Very business-like.
Then things changed again by fluke, a party joke, a nosey streak and flash! I wore my first schoolie outfit for about three years, except this was a little shorter, like up round my waist. In fact another girl had to adjust everything for me as I did not have a clue! Even down to how to clip the stockings in the fasteners, sad!
Then another chance meeting with a confirmed stockings nut, who is just a friend and no more, led to the buzz of being snapped in stockings. A promotion into a work area where the guys are above me in the company but can't resist long legs means I often get away with murder and I don't know why! Wink! Wink!
I find that from time to time I enjoy the challenge of a certain amount of discomfort on the train and around the office, to really feel… Well different from the other girls and I now know what it does to grown men!
I don't often wear very short skirts. If I do, I wear tights but just occasionally I wear one just decent enough to cover up the stockings underneath. Then, armed with a long coat, I go to work knowing I'm the centre of attention for the day! Some will say tart! Some will say worse but it doesn't hurt anyone. It's just a laugh. All it takes is more time getting dressed, more time constantly adjusting things, more time in the loo! All in all a real pain in the backside but for a few hours I get almost anything I like, late start, long lunch break, lots of enquiries about if I need another coffee. Great!
Mind you if stockings were as easy as tights and the effect was the same, no work would be done in the city at all! I'll try to carry on wearing for as long as I feel I can. It's usually other women that stop women wearing stockings by implying "she's a tart". In fact it's been implied on this very forum that certain types of dress style "would not be allowed in my office". Well all I can say is poor fellas! My guys get a nice flash from time to time and that hurts no one at all and my reputation stands on my work abilities not my dress sense.
-I almost fell over this morning. We've had a new secretary in the office for the past six months. She has been wearing slacks and it looks like boots of some kind since she has been here. A couple of weeks ago she wore a pair of heels, maybe 2″, a couple of times. This morning she came in with a skirt that was just above her knee and a pair of off-black nylon hose. I'm pretty sure that they are probably tights but when all I've been seeing are slacks and bare legs, even the tights looks good. Maybe nylon isn't dead only on a sick bed.