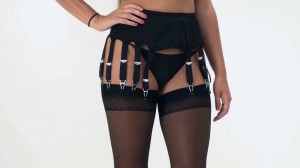 – My boyfriend told me about this web site, so I thought I'd take a look. For the past month or so he's been after me to wear stockings. I actually almost never wear hose (yes, I'm one of those dreaded bare-leg girls that will probably be hated here), so generally I'd just say no and he was fine with it. This week he's away on a business trip, and today I went out and bought my first ever garter belt and black stockings at Nordstrom's department store (btw I wasn't the only woman buying lingerie or stockings). Don't laugh but this is the first time I've bought hosiery of any kind in at least four or five years.
Anyway I thought I'd give my boyfriend a treat when he came back home. So I tried this on, and may I just say that it is a total pain to connect the 'rear' garters to the stockings? How in the world do you do this? They kept getting un-done after I'd fasten them. I finally just moved the 'rear' garters to fasten to the sides of my stockings, and I'm wearing them now, to try to get used to wearing them when my boyfriend comes back. I don't hate it as much as I thought I would, and I will say that it's a lot more comfortable than I expected (at the least, it's not as uncomfortable as pantyhose).
Anyway if some of the women here could offer any advice on the 'rear' garter fastening…
– First of all welcome to wearing stockings. Don't get stockings at Nordstrom's. I've tried the ones you probably got. Hanes right? I just about strained a muscle the first time I tried to do up a rear garter with a garter belt from Victoria's Secret.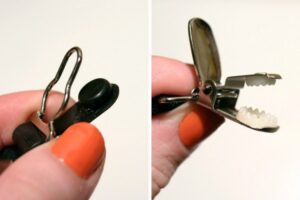 What you need is a garter belt that has metal garters as they will hold up your stockings and be very comfortable. Next you need stockings that will feel great on your legs. I highly recommend Gio for fully fashioned stockings as they are very silky soft.
Also, to avoid exposing a garter, wear the stockings right up to the top of your thighs and if you get fully fashioned stockings be sure to get a six strap garter belt. You can buy those in the SHQ shop and they're very comfortable.
Most of all realise that getting comfortable may take some time. Just six months ago I started wearing stockings and to get myself used to wearing them I wore them a little at a time around the house at first. I found I had many new feelings to deal with both emotionally and physically. You will find it will take some time to get used to them, but it sounds like you are off to a great start. Most of all let your boyfriend know you will wear them when YOU want not when he wants.
I'll pass on some advice I got when I was new to this forum, 'experiment until you find the stockings you like best and then when you find the ones you like best stick with them'.
– I too am quite new to this forum and I'm a quite new stockings-wearer. I started a few months ago for going out with my boyfriend and for 6 weeks now I've been wearing stockings every day. I know it is not easy but just do it!
– Once you have the front garter attached, try positioning your leg back as far as you can, Like as if you were walking. You will find attaching the back garter much easier that way.
– If you wear fully fashioned nylons with a seam, get the seam right and then START with the back garter first and hook it as close to the seam as you can .Then work your way around to the front. I prefer 6-8 straps as I find more straps, less movement. Good luck
– If you're serious about wearing stockings – and not having them on just to be ripped off! – then I suggest investing in a good garterbelt with metal tabs and good elastic
As for getting the 'rear' garters clipped, well, it does take a small amount of gymnastics, and a fair amount of practice. Personally, I wear an open bottom girdle every day, so chasing the back tab around isn't that big of an issue. However, the best way is to bend over and attach them with one hand between your legs, holding the garter tab, and your other hand around the outside of your thigh, holding the stocking. It's all about guiding them together. Having the right length of stocking is important as well. Opera length will ensure that the welt is on the upper portion of your thigh, to minimise slippage and exposure. Since real nylon stockings have little give, it's important to get the right size. Any length that might appear to be too much actually gets taken up horizontally by the thickness of your legs. (shapely calves and thighs take more nylon.)
I know this sounds like a lot of maintenance, but once you get over the awkward stage, you'll forget they're even there – well, until a man compliments you for having the good taste to wear nylons!