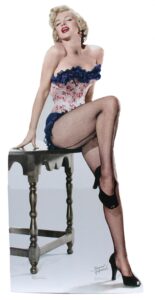 Suggestive stockings are making a serious comeback in time for the Millennium party season and fishnet and seamed are the order of the day. Ita O'Kelly-Browne reports.
SEXY seamed stockings are seriously back in fashion for the party season of the century as women re-discover that the feminine glamour of the '40s beats '90s-style glamour hands down. Saucy today means going light on the lipstick and the cleavage in favour of seductive and suggestive legwear because of course a seamed stocking encourages the eye to travel vertically up the back of the leg. If in doubt just think of Marilyn Monroe!
While most women of the previous generation happily left behind their stockings and suspender belts and embraced the convenience of tights like a long lost friend, a whole new generation of younger women have discovered for themselves that old fashioned glamour has never really lost its edge after all. There is a time and a place for black heavy duty opaque tights and at this stage they have seriously out-stayed their welcome. Glamour is back with a bang and the seamy side of life is now where it is all happening.
Manufacturing outlets in the UK who have always made seamed and regular stockings for a small band of die-hards who refused to wear tights, have found themselves scrambling to cope with unprecedented demand for leg glamour from all over the world. Old nylon making machines which have been idle for years at The Silk Mill Hoisery Company in Derbyshire in the UK have had a service and been put back into unexpected production. They have now teamed up with deluxe hosiery firm Wolford to create a pair of tights which look like seamed stockings complete with garter belt but they are designed so that only the wearer knows that they are not quite the real thing!
And Irish women are very much to the forefront of the new fashion for seductive stockings according to Brown Thomas who report brisk demand for sexy stockings for the party season. The top drawer stocking company Wolford who make the Rolls Royce of stockings are walking off the shelves at £22.50 per pair. Most popular are Subjekt fishnet tights from Wolford which are designed to look like stockings with a sheer top and an opaque piece at the top which is supposed to give the impression of bare flesh! BT's are currently waiting for supplies of old fashioned seamed stockings in the same range which will also retail at £22.50.
Nylons as they were known first made their appearance in Ireland in the late 1940s. This season sees the re-launch of a new range from Pretty Polly called Nylons which are retro-style products to celebrate their 50th anniversary. The biggest sellers in the range according to a company spokesperson are a black seamed stocking which is also available in tights and has a very stylish Cuban heel. The look is designed to coincide with the revival of forties fashion this year where skirts are brushing the knee seductively and sheer and shimmering legs complete the look.
The other big seller this season according to Brown Thomas are seamed 15 denier tights with a difference the seam in this case is made from pearls which go from the heel to the top of the leg also by Wolford and retailing at £22.50. According to Brown Thomas younger women in the twentysomething age groups tend to opt for hold-ups which are ersatz stockings while women in the 30 and upwards age groups tend to go for the real thing for glamorous occasions.
Over at Arnott's a similar picture emerges according to veteran fashion observer at the Accessories Department Ann Warren who says that there is much more interest in glamorous stockingwear this year than ever before.
"There is no doubt that the more glamorous stockings and tights are more fashionable right now and seamed and sparkly are the favoured option for the Christmas and Millennium party season. I find that the young to middle aged are choosing the fishnets in black for evening wear but only the adventurous are opting for the white or red fishnets in the Elle range.
Pretty Polly seamed stockings and tights are also going well and I also find that the Italian fashion for wearing a pair of regular tights and a pair of fishnets over them is now becoming popular here. It can look well on the younger woman who likes to stand out", according to Ann who is always at her busiest at this time of year.
A combination of things have contributed to the newfound interest in seamed stockings, patterned tights and fishnets, not the least of which is the fact that today it is once again politically correct for women to not only want to look glamorous but seductive as well. Add to this the re-appearance of fancy hosiery on the catwalk where fashion has become more feminine and the fact that the joint effects of the Christmas and Millennium party season are having on women worldwide and you have a veritable avalanche of sophisticated elegance in the offing which presumably will please a great deal of men not to mention hosiery companies.
Legs Lawlor
Bloodstock manager and social animal Elaine Lawlor is better known to most people by her pet name 'Legs Lawlor' because of her incredibly long legs. Thirty-nine-year-old Elaine who is 6ft1" tall or 5ft13" as she describes herself, was first given the name when at school and it has simply stuck with her ever since.
Elaine modestly maintains that it is just because of their length her inside leg measures 36 inches but most men would probably maintain that her pet name results from both the shape and length of her legs. And it probably has something to do with the fact that she is one of those women who ALWAYS wears stockings because she hates tights.
"I have never liked tights and I also find them most unhygienic. While many people claim that wearing stockings is inconvenient, I would have to say that I do not find them inconvenient at all. Mind you that being said I actually wear jeans most of the time for my work but when I am going out I always wear skirts and stockings simply because I like them and find them sexy".
While Elaine loves stockings she is not a fan of either fishnets because she believes that being understated is the key to elegance for a woman.
"I believe in keeping it simple so I always wear dark sheer stockings for evening and light sheer in the day. I always choose sheer stockings because I think that they are sexier".
The allure of the seam
Marilyn Monroe wore seamed stockings like nobody else could; Jane Russell wore seamed fishnets to great effect; Madonna virtually launched her career on the back of black fishnet stockings teamed with hob nail boots; Sharon Stone is a self-confessed fan of real silk stockings; Jerry Hall has always confessed to being an old fashioned girl at heart and she always wears seamed stockings when dressing up; Tina Turner regularly dresses her trademark long legs in fishnets to excellent effect.