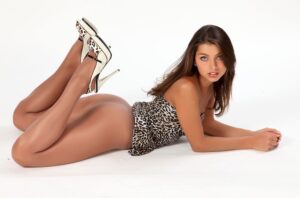 – My girlfriend is fortunately a stocking wearer and she knows I think it's sexy, but I don't think she just knows how much. Anyway, she ONLY wears beige/suntan nylons. I know because I remember the last time she wore black nylons – three and a half years ago! I've tried to suggest/hint gently without being pushy that black would turn me on. I even bought her a black corset/bustier thingy with garters, but she only wears it with her suntan nylons. Is this common to wear only tan nylons? Or is my girlfriend a certified/card-carrying suntan nylons wearer? I do know that some women think this isn't fashionable. What's everyone's opinion?
– Everyone's different, but I'd be in 'stocking heaven' if my girlfriend wore suntan nylons all the time. They're my absolute favourite. I'd never want her to wear anything else. To my mind, black was sexy before black in wardrobes – and most of all, in hosiery – became omnipresent. To my mind, the colour is now way overdone and has lost its glamour and sexiness, though something like a 'near black' – esp in RHTs/FFs – may still have something going for it.
– Your girlfriend like my husband may just not like black or may associate it with something bad. I personally won't wear the colour black because it makes me look too pale and I just don't really like the colour black.
Let her wear what she is comfortable in. You might want to ask why she won't wear black or does she realise it turns you on. But be careful. I have found that many times an aversion to black is for a reason either personal or otherwise.
– Wake up, smell the coffee and count your blessings, man! Most of us men here would be in heaven if our wives wore tan stockings all the time. They are my favourite and I also think that black is overdone these days. Maybe try a grey tone – these can be very sexy – far sexier than black as far as I am concerned (grey is my second favourite).
– Surprise her with some chocolate ones. She'll love 'em.
– I agree that black is always 'over-rated': 'nearly black' is far more sexy, but tanned always wins legs up!
– Here's a practical reason – you get more wear out of suntan/flesh tone that you would a darker colour.
By this I mean that you might have a slight pick or a pull on a pair of tan nylons that won't show when on the leg. Black and other darker colours mean you have to be oh-so careful about what you brush up against, for fear that you will scratch the nylon.
Your girlfriend may feel that wearing the black nylons with a black bustier is a little racy for her. It might make her feel tarty, and unless that's what she's trying for, extremely self-conscious.
Perhaps you might want to explore her reasons for the colour dislike, and whether she might be able to work with it.