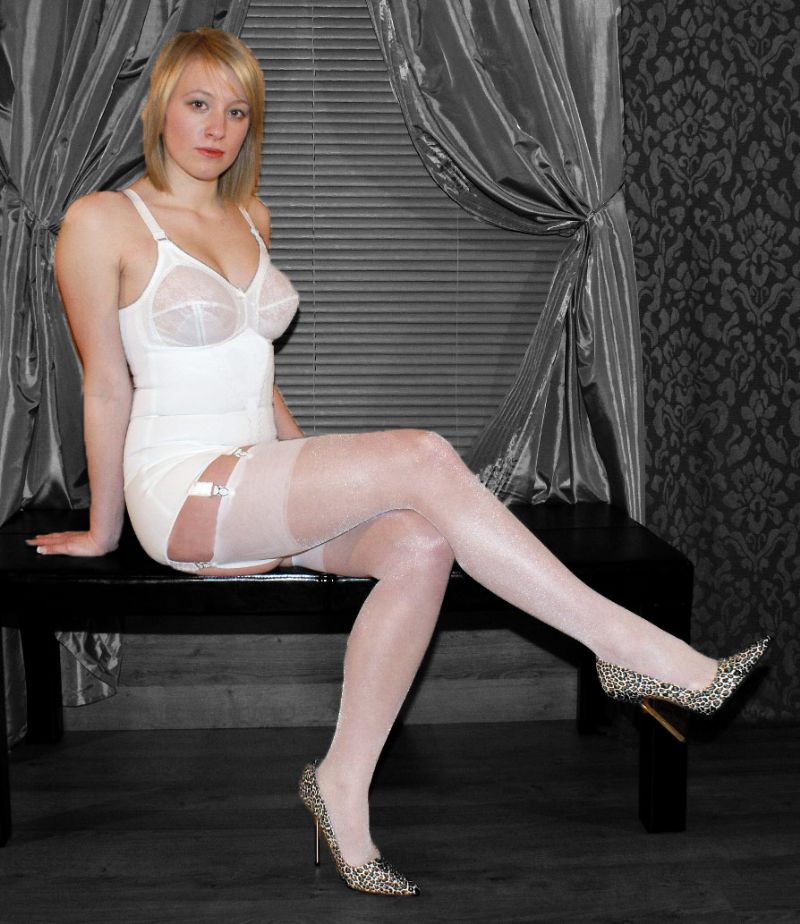 "Do any ladies out there still wear girdles with stockings and suspenders (garters)? I have always been absolutely fascinated with stockings and suspenders, but especially with girdles. If any ladies out there still wear girdles, I would love to hear from you!"
"I am a 40 year-old bi female. I have an extensive collection of girdles. I grew up in the era of stockings and garters. We always wore them to school everyday. I never stopped. Girdles and garters are very erotic for the wearer and spice up your love life. Men love a glimpse and it's surprising the women who also are excited by seeing them! I love the way they shape my rear and they hold up my nylons wrinkle free. More women should try wearing one but make sure you are properly fitted. Go to a good department stores foundation section and get a knowledgeable sales lady. Believe me a good foundation garment can add pizazz to your figure and sex life!"
"You're absolutely right, there's a lot of work in getting the right clothes, fit and type of stockings and making sure they are comfortable! After all, there are at least three moving parts that have to work together – and maybe six! Maybe some of us should do a tutorial and start a college on how to do it right!
"I think it's important that if men would like women to come back into wearing stockings again that they try to understand the woman's point of view. I'm afraid not many men think that way, so we need to educate the men as much as the women on this.
"I have no idea why you chose to, but congratulations on never having given up on stockings! You are certainly in a minority, but a valued one!"
"I am a 32 year-old female, married, and I have recently discovered girdles. I tried garter belts with my stockings, and didn't feel right. When I got my first girdle, it was like coming home. Now I wear one every day with my work attire, and enjoy the 'held in' and firm feeling I get. You might be interested in checking out a web site called ZONA, which is a lovely paean to girdles and ladies who girdled. I cannot think of the URL right now, but just type in ZONA and see what you get. The site will hopefully get updated soon, with all new information. Enjoy!"
"My wife of 30-plus plus years wears open bottom girdles (obgs)- in fact she has them in all colours thanks to the magic of RIT dye. I love her in pink or in light chocolate colour. She seldom wears seams, but really likes National brand 400 which are close to the stockings we loved in the early '60s.
"Girdles not only keep a woman's tummy in and aid posture, but I firmly believe that they help keep the man in also. I've never lost my interest in my wife. I call it the awesome power of nylon!"
"I'm a 25 year-old red head who hails from MA and I'm a big voluptuous gal with freckles and I love stockings and garter belts and open bottomed girdles. I also wear high heel sandals and slides since they feel better on my feet than flat shoes. I also hate the manly shoe styles of today.
"I've been wearing stockings and gbs and obgs since I was 18. They hold me in and make me feel very feminine (and yes, a little naughty!)
"I'm a working girl and mainly wear skirts + or – 2″ at the knees. I sometimes wear jeans – but always with stockings, and appropriate foundations, and slides or sandals."
"The reason I wear stockings is that I don't like pantyhose. They always 'cut' me and never fit properly – no matter how cheap or expensive the brand. I also had other problems with infections that the gynaecologist said were caused by too much of a hot, moist environment for bacteria. Not as sexy as it sounds! So I started wearing stockings and gbs and obgs and loved them. They fit. I liked the way they held me in and improved my posture and my feet are not comfortable in flat shoes. I prefer a 2-3″ heel and the more open the better. I don't try to be sexy or kinky or anything. I like to feel attractive and comfortable and so I wear what I wear! It me. It's who I am!"