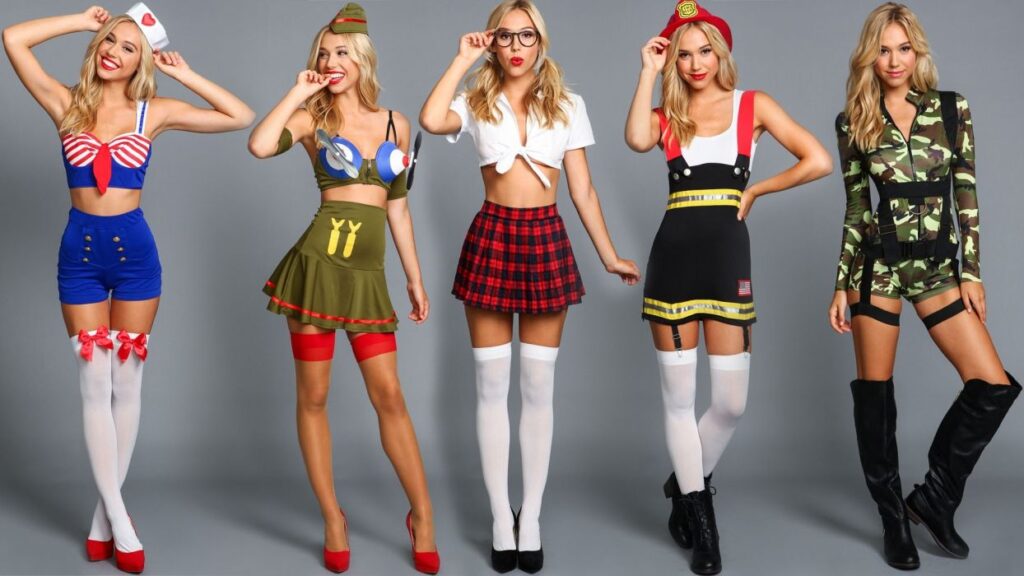 – I prefer to keep this non-smutty. Here's a couple:
1) being a salesman in a ladies' shoe store in the 1950s.
2) being locked in a dept. store overnight and having 'run' of the hosiery dept.
– I'm with you on fantasy #1. Working in an upscale ladies' shoe store still must be a pretty good gig.
– Mine would be either:
1) working as an assistant to Irving Klaw in his photo studio ("another pair of stockings, Miss Page?")
Or
2) assisting Gil Elvgren in his studio
What a joy it would be to go back in time and be surrounded by some of the most beautiful women around, all of them in high heels, sexy lingerie, and gorgeous stockings! :>)
– How about being a parking valet in the 1950's?
– A parking valet… can you imagine how many unintended views they must've gotten? Definitely a fantasy job! :>)
– During my college years I worked evenings and weekends as a shoe saleman at Edison Brothers' Bakers Shoes – an all women's shoe store chain. That experience ignited my love of stockings on women.
Most exciting for me were ladies in their late thirties that came of age during the stockings and garter era that did not accept pantyhose as a fashion requirement. These ladies often sought out slim-heeled pumps (court shoes in the UK). Often they commented that the man in their life preferred "real high heels".
Most of these ladies were demure, and modest when trying on shoes. Often they asked me how the shoes made their legs look.
My best customers treated our relationship much like the relationship with their physician. My view of their stocking tops and garters was like their doctor seeing them naked in the physical – not a big deal for my customers. (I always wonder what physicians think – because it was a big deal for me…)
Our store sold women's hosiery, and we were the only store in the mall that still carried 10 and 15 denier stockings. The young female clerks at the register were mostly pantyhose "literate". The clerks and sales people at the store relied on my stockings knowledge to help their customers.
My shoes sales usually ranked among the top 25 percent in the company, but my managers often commented that I let too much business walk away at busy times by spending too much time with "special" customers.
However, my stockings sales led over 1,500 US sales people, and our store had the top hosiery sales in the chain for two years. My knowledge of the "classic elegant look" attracted upscale customers that requested higher-priced merchandise, and purchased profitable add ons.
Many female sales clerks that worked in the store during the era of my employment switched from pantyhose to stockings to emulate the elegant look of the store's highest-class customers. (My encouragement in telling them how it would influence the male perspective might have influenced their change a little. )
The image of sheer nylon on the long stems of an elegant lady remains very clear today. The "swishing sound" of nylon-clad thighs rubbing together still starts my heart racing.
– Someone (it may have been you) posted a similar fantasy a few weeks ago and I found it highly entertaining.
I actually work in a high heeled shoe and stocking shop. The girls who work with me (although there is no dress code) favour pencil skirts, high heels and stockings (although I have to say, fishnets are the favourites amongst the other two) and have a strong retro '50s look. We get great pleasure in informing customers who request flat shoes that we're sorry but our lowest heel is 4.5 inches.
Although we could be classed as a fetish shoe shop we sway towards the innocent, cheeky side of things – definitely nothing seedy.
In reply to one of the other posts, I also style and assist with Betty Page style photo shoots for a web site.
So if you're ever in London you will have to visit. You never know, we may even lock you in!
– Fantasy no. 3: A crowd of otherwise well-dressed women walking briskly to work during the morning rush hour arrive at a busy downtown intersection. As they meet in the middle, they decide to stop, take off their stockings, and thrown them in a huge pile them in the middle of the intersection.
– I've posted before that I worked in a women's shoe store and did so for almost seven years (as my main job and then later as a part-timer).
I was often the lead salesmen (most sales!) And this was still at a time when the salesperson sat at one of the low stools, removed the customer's shoes and regardless of whether or not they made a purchase, put their shoes back on for them. I truly enjoyed the views I received and a great many women would really relax and not be upset to flash a little thigh. Also, another post on this site mentioned the aroma of women's stockinged feet and I must agree that this can be a truly intoxicating experience.
Thankfully, this store carried a good selection of high-heeled pumps and sandals. Many, many times, I was grateful for a slow day when I could truly "wait" on a customer and take my time. They appreciated it and so did i!
Although our store did not carry the high-line stockings (just pantyhose and trouser socks/knee-highs and later thigh-hi/holdups) I could always recommend one of the local boutiques where they could find RHT and/or seamed stockings along with garter belts (pre-Victorias Secret). When helping them with a particularly delicate or exquisite pair of pumps, I would suggest that a more proper stocking would complete their ensemble, such as a seamed or RHT and direct them accordingly. Many times they would consider it and I would still sell pantyhose "for more casual wear. "
There was one boutique that managed to keep some cuban heel and french heel stockings on hand and every woman who purchased some slingbacks or the fancier pumps got referred there. A scant few times (not nearly enough for me) a customer would come by wearing their new shoes for stockings to show me. What a thrill! (Why do you think I stayed there as a part-timer!)
I also worked for a short time at a Nine West store. Many great legs and sexy feet came into that store but it was more of the business women with the requisite short skirts. They stuck with pantyhose. Nothing wrong with that either!
I filled in a few times at a Wild Pair store in the mall. While they definitely had some wild shoes (fetish and club gear really) they also stocked some wild hosiery too but at the time, mostly goth types and males trying to look crazy did most of the buying. Although they sold a ton of fishnets out the door! (I led the salespeople in hose sales at that store.)
Some days I want to chuck this whole corporate set-up and go back to that line of work (finances permitting). Of course, now to walk in to a woman's shoe store and apply for a sales job they would probably rule me out as a foot fetishist, shoe fetishist, hosiery fetishist or pervert. But if anyone knows of a store looking for help, let me know.
Oh… the memories!
– I heard on Star 94 this morning that the Victoria's Secret stocking store at the North Point Mall is anticipating significantly increased traffic as a result of the release of Moulin Rouge and Pearl Harbour this weekend.
Let's hope they're right. I bought my first lotto ticket yesterday. If I win, I'm quitting my job selling enterprise software, and getting a part-time job selling women's shoes in an upscale environment.
Then, I'm going get my lady and we're going to travel to all the cities in the world where stockings are popular – and perhaps visible from a park bench at lunch.
That's my fantasy.
– Yes, wouldn't it be wonderful to be independently wealthy and then 'choose' a job like being a low-level clerk at an elegant upscale ladies' shoe store? (Today, however, most of the 'upscale' women wear black slacks, flat shoes, or heels without nylons – and what fun is that?) But what of the idea of starting such a store? Keeping with something of a retro-trend, this could be the real deal. A store designed in all the poofy, prim and chi-chi elegance of fifties' feminine fashion, with pink hues and dainty chairs and deep-piled fluffy carpet (all the better to have the ladies tip toe across it in their RHTs or FFs) – with an inventory of classic shoes from those times, and of course all the retro hosiery one could stock. Think of this as a fashion sensation, ladies and gentlemen. Even USA Today and CNN might do pieces!
– Mine would be being stuck in an elevator with a professional woman wearing a business suit, nylons, and heels. The only way out would be to escape out of the ceiling hatch. I'd be obliged to assist her up. With her shoes off, I'd hold her stockinged feet in my hands as I lift her up toward the ceiling – with a beautiful view up her stockinged legs.
– In the TV show, The Nanny, there's a scene in which that very same fantasy happens. Her boss tries to get her up the escape hatch in an elevator and her nyloned feet are rubbing his face. Then she gets stuck and she deliberately starts rubbing her feet in his face trying to turn him on. Yes, this was on nationwide TV! I almost fainted when I saw that.
Also in some old 1930s b&w movie ( I have no idea what the movie was called), there's a scene in which a woman and a guy stuck in an elevator, she takes her shoes off and tries to climb through the escape hatch. She rubs her full fashioned black sheer stockings all over his face. Mmm…