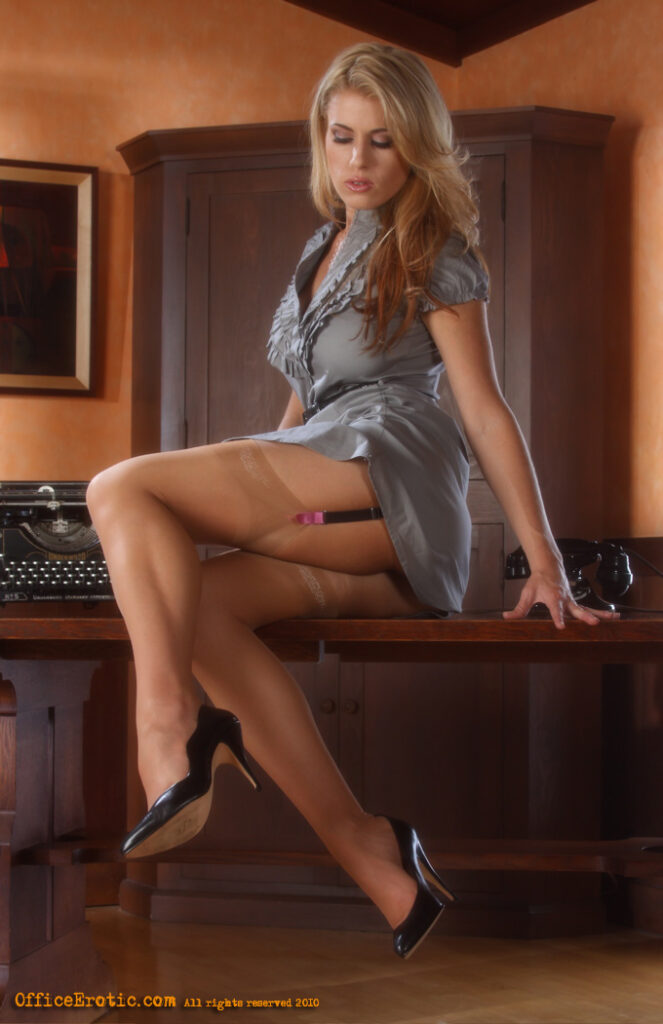 Confirmed sighting last night at bar. I know for sure 'cos I asked her!
I was in a bar last night – the bar is underground. As I was walking past the stair to the outside – I noticed a woman in a just above the knee red dress walking up the stairs. As ever on the lookout I checked out the hemline – and there were the two tell-tale dark bands visible.
Emboldened by three pints of Timothy Taylor Landlord and some strong Belgian stuff., I went up the stairs to the outside. She was standing at the entrance waiting for someone or a taxi probably. So I just said to her – 'Excuse me are you wearing stockings?' – should looked at me dumbfounded and simply replied 'yes'.
'I thought so' I said and went back in.
I'm sure I wouldn't have done this if I hadn't been a bit drunk. Come to think of it – now it's the next day I'm beginning to wonder if I imagined it! I don't think so though.
I occasionally see ladies in stockings, and it always makes my day, I must say – so few women wear them these days. It almost always happens on the Underground or on a train. One woman I have seen more than once adjusts her suspenders in Finchley Road station of a morning on the southbound platform. She goes into a shelter which has windows to do this and rests her foot on the bench there, but doesn't seem to notice that people can see. I like to ride in the same carriage with her as she brings such pleasure to men with these sightings. Other times, coming home at night, there is another lady, at Finchley Road station again, who skips up the steps so that some of those following behind can just make out the tops of her stockings. A different lady of course, but so lucky to have two such ladies at one Underground station!"
Another sighting for the board's collection. In a 'team meeting' at work today I had an excellent sighting. We were sat in a circle while the boss droned on and on. Nearly asleep, I was jolted back to life by the sight of a colleague's deep black stocking-top and the smallest length of a white suspender. It got my attention focused, I can tell you. Thank God for split skirts! I had to be very careful in case she noticed me staring but I could not avert my eyes. Betty is a tall lady in her mid 50s, always dresses well and has the most fabulous pair of pins. She usually wears high heels too. I had always assumed that she wore tights as her ankles never showed any of the slight creasing that I associate with stockings. It fair made my day."
"I had four good sightings at a recent do in Northampton. They were as follows:
My wife was wearing an on the knee black dress together with the new lacy top PP nylons I bought her for Christmas. Following three swift glasses of champagne she sat down and peeled back the hem of her dress to proudly show all of my party her 'new' stockings together with black suspenders. She also gave many other accidental flashes throughout the night. I felt as hot as hell from about 10pm!
My wife's sister was wearing a long skirt but I could feel the suspenders through the thin material as I had my around her and resting on her leg.
Two ladies on the table next to us were dancing by us as the dance floor was packed. One had a shortish thin black dress on and I could clearly see the outline of her suspenders through the material. I watched her dance for about 15 minutes and every so often (fast music!) she would bend her knees and the dress would rise high enough to display her stocking tops and white suspender clips! When she sat down I got an eyeful of her stocking top, suspender clips and thigh above, she must have been about 45ish but was very trim and knew what she was doing.
The other lady was wearing a lacy dress that was very see-through up to mid thigh, you could clearly see her lacy tops of her hold-ups as she danced in front of us and even a bit of thigh above when she sat down and crossed her legs."
On New Year's Eve I went to formal do, with tables of 16 that were picked at random. Next to myself and my partner were Melanie and her husband from Surrey, up visiting Scotland to see in the New Year. As the wine/beer/spirits flowed and guests were in conversation, people were dancing etc with one another.
Being a Scot I was wearing a kilt and was constantly being asked by Mel 'are you a true Scotsman?' I had to confess that I was not. As the night had gone on I was getting more glimpses of the trademark black bands around the tops of Mel's stockings, they would have been hard to miss as she was wearing a grey dress with a split up the middle. After numerous drinks I had no hesitation in saying "as you asked about my underwear how about yours, "are you wearing suspenders?" I got a laugh and a look to say eyes this way."